Key events
Keir Starmer said a Labor government would make a massive home insulation program a 'national mission'. Speaking at a construction site in Walthamstow, he said insulating homes offered a "longer-term answer" to the energy bill crisis. He said:
We in the Labor Party said we should have said we should freeze energy prices, not let those bills go up, and pay for that in part with a windfall tax on oil and gas companies, which are making huge profits.

Along with this we need a national mission to insulate homes, this is a longer term issue. We asked for this a year ago now, if the government had done this we would have insulated the better part of two million homes.
Good insulation could save a household more than £1,000 a year in energy costs, he said.
The Tories should end the leadership race this week so the new Prime Minister can stop rising fuel bill prices, according to the energy boss
Liz Truss would use an emergency budget in September to announce (among other things) how his government would help people with rising energy bills. On Friday, Ofgem will announce what the energy price cap will be from October, and on the Today program this morning an interview with three energy company bosses illustrated how dire the outlook is.
Greg Jackson, the founder and chief executive of Octopus Energy, said the government needed to help consumers because it was impossible for households to meet rising costs on their own. He told the program:
The big thing here is that we need more help for government customers. The reality is that customers are being asked to pay the price of gas, which is being weaponized by Putin, and they shouldn't be expected to do it alone.

Let's put this into perspective. The UK's energy bill may rise from £15bn in a normal year to £75bn this year. And that's the equivalent of maybe 9 pence or more on the basic rate of income tax. No government would advertise this, and likewise no government should let this go to customers.
Referring to rising wholesale petrol prices, he continued: "Listen, to put that into perspective, if it was beer, we're talking about a wholesale price of £25 a pint.
Dale Vincentfounder of Ecotricity, also said the government must intervene. He told the program:
This problem predates the Ukrainian war. We have a systemic failure in the energy market. The government must intervene. Customers should not be expected to pay the price for this failure and the war in Ukraine…

The government just needs to step in and pick up that cost like it did during the pandemic. We need £40 billion to get through this winter. It's 10% of what was spent during the pandemic and it's the only thing that will really fix this problem.
jackson said one option for the government would be to freeze the energy price cap and use a tariff deficit fund to help energy companies cover their costs. vince also expressed their support for the idea, and Bill Bullen, chief executive of Utilita, said the Conservative Party should bring forward the end date of the leadership race so the new leader can reverse the energy price cap hike announced on Friday. He told the program:
Throughout the summer we have heard of customers in distress, of customers who are worried about not being able to heat their homes this winter. This is why we say to the government, you must make this decision to freeze prices at their current level now.

It can't wait for September 5 or 6. The Conservative Party has to make do, decide who will be leader this week, so that Ofgem's announcement on 26 [the rise in the price cap for October] must not happen. It is so imperative.

Frankly, for the good of the nation, I think the Conservative Party needs to settle its leadership race faster than it currently expects. Then at least we will take the stress out of this coming winter for tens of millions of homes.
Here is the graphic from the Rishi Sunak campaign press release released overnight explaining why it says Liz Truss is promising unfunded tax cuts and spending pledges worth £61.5billion. (See 9:27.)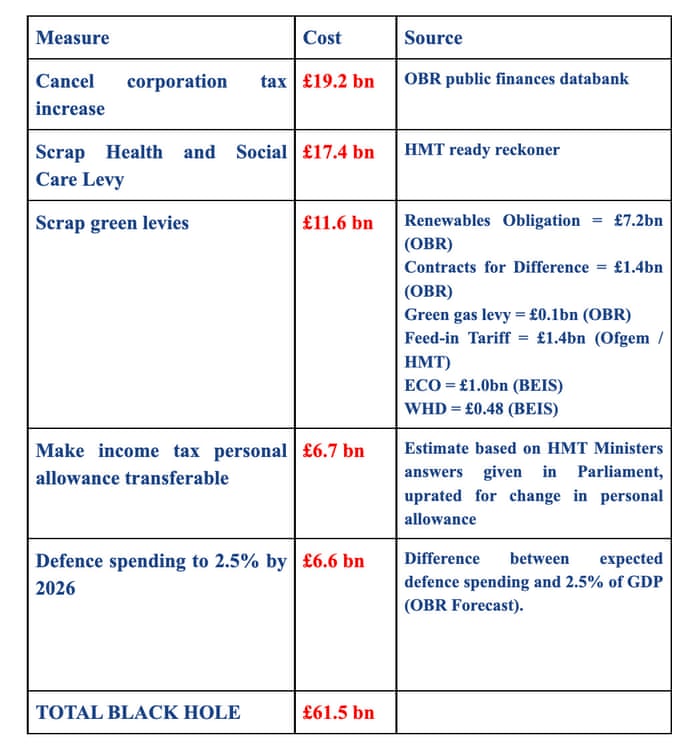 The right Guido Fawkes The website claims that in opposing the proposed tax cuts in this way, Sunak's camp is like Gordon Brown and what he is really doing is inadvertently promoting Truss' plan to save more £48 billion to taxpayers.
Criminal lawyers in England and Wales vote for indefinite strike
Criminal lawyers in England and Wales have voted for an indefinite strike from next month, the Criminal Bar Association (CBA) has announced.
And Ione Wells BBC says OBC sources dispute Camp Truss's suggestions that it would not have time to produce new fiscal and economic forecasts ahead of Liz Truss' planned emergency budget.
Chris Gilles, the economics editor of the Financial Times, says Rishi Sunak announced numerous emergency bailouts (on Covid and energy bills) when he was Chancellor without getting new economic forecasts from the Office each time. for Budget Responsibility. But if Liz Truss tried to stop the OBR from producing independent fiscal and economic forecasts twice a year, that would be worrying, he says.
Ex-Thatcher policy chief accuses Truss of 'total loss of faith' in his economic plans
Hello. In two weeks today, the Conservative Party will announce the winner of the leadership race and who will become the next Prime Minister, and it seems increasingly certain that it will be Liz Truss. But, as a post as Prime Minister Truss looks increasingly likely, scrutiny of his plans is only intensifying, and this morning Rishi Sunak's camp deployed a former chief political adviser to Margaret Thatcher to back up his (very familiar) assertion that his plans don't add up.
Brian Griffiths – now Lord Griffiths of Fforestfach – was head of the political unit at No 10 between 1985 and 1990. He is quoted in a press release from the Sunak camp responding to a report saying that "Whitehall officials who have been in contact with Team Truss say she does not plan to ask the Independent Office for Budget Accountability (OBR) to make a formal forecast of public finances" before the emergency budget she is considering, tentatively scheduled for the September 21.
Commenting on this, Griffiths said:
The Bank of England's devastating economic outlook stands in contrast to Liz's optimism – for her to prevent the OBR now from making a proper analysis of the facts would seem to indicate a complete loss of faith in the policy it advocates.
Camp Sunak's press briefing also says Truss has already pledged unfunded tax cuts and spending pledges worth £61.5billion. Referring to an article by Kwasi Kwarteng in the Mail on Sunday yesterday, in which Kwarteng (an ally of Truss who is expected to be the next Chancellor) said Truss would provide more help to people with the cost of living, a carrier Sunak's word said that Truss wanted to avoid scrutiny from the OBR because she knew it would be impossible to offer tax breaks and help pay energy bills at the promised scale without "increasing borrowing to historic and dangerous levels, putting public finances in serious jeopardy and plunging the economy into an inflationary spiral".
In response, a spokeswoman for Truss said her plans were "reasonable" and that: "We need a new approach to economics, we need to challenge failing economic orthodoxy and we need to implement the necessary reforms to fight inflation and achieve sustainable growth.
I will post more on this line shortly. Matt Hancock, the former health secretary and Sunak supporter, was asked in a Today interview.
Boris Johnson is back from vacation this week and there are two items in today's paper that might spark interest.
11:30 a.m.: Downing Street holds its weekly lobby briefing.
After 12 p.m.: Rishi Sunak is interviewed by Vanessa Feltz on Radio 2.
Keir Starmer is also visiting London this morning, where he will promote Labour's plans for a massive home insulation scheme.
I try to monitor comments below the line (BTL) but it's impossible to read them all. If you have a direct question, include "Andrew" somewhere and I'm more likely to find it. I try to answer questions, and if they're of general interest, I'll post the question and answer above the line (ATL), although I can't promise to do this for everyone.
If you want to get my attention quickly, it's probably best to use Twitter. I'm on it @AndrewSparrow.
You can also email me at [email protected]