Rinnai's latest CPD: Carbon and economic advantages of zero hot storage Water systems, demonstrates the carbon and cost savings achieved through its N series of units offering a continuous flow water heating system. This CPD – and all others – can be viewed at www.rinnaiuk.com.
Current media attention is directed towards the issue of the rising cost of energy and living. Rinnai works continuously to produce robust and reliable products that benefit the customer in terms of finance and performance.
Rinnai's instant hot water systems have been rigorously analyzed and found to offer significant savings in five key areas, compared to traditional storage systems: running costs, upfront payments, carbon footprint, space and weight.
Below are two graphs that visually demonstrate the emission levels released from both a hot water storage system and a Rinnai N1600. The first graph reveals the carbon footprint of the 1st year; the second establishes the difference after a period of 5 years.
The blue column on the right represents the total emissions released by a typical water storage system which is measured at almost 19,000 kg of carbon dioxide. Rinnai's N1600 is responsible for LESS than 15,000 kg of carbon dioxide.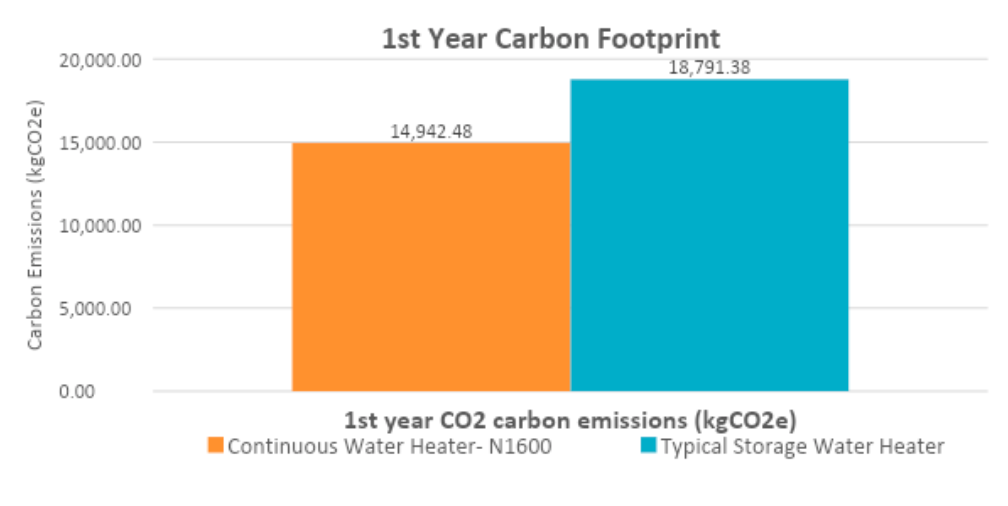 The graph below provides visual information that proves that over 5 years, Rinnai's N1600 Continuous Flow Water Heater has lower emissions than a traditional storage water heater when measuring kg of carbon dioxide .
Rinnai is one of the world's leading manufacturers of water heaters and produces over two million units per year. The company operates on all five continents and the brand has earned a well-established reputation for high performance, high profitability and extended lifespans.
Rinnai's commercial and domestic hot water products offer an unlimited supply of instant, temperature-controlled hot water and all new units are designed to align with current and future energy sources and accept natural gas or blends of hydrogen gas. Rinnai units are also suitable for off-grid customers who require LPG, BioLPG and rDME.
Rinnai units are UKCA certified, have Class A water efficiency, are accessible via multiple fuel options and are available for purchase 24/7, 365 days a year. Any unit can be delivered to any UK location within 24 hours. System design services are available if required and cost comparison services are available to any customers who require further cost details.
Rinnai is committed to decarbonization. Rinnai's water heating products are all NOW ready hydrogen blends and can use BioLPG capable of delivering NetZero carbon emissions. Rinnai offers comprehensive training courses and technical support in all aspects of the water heating industry. More information can be found on Rinnai's website and its "Help Me Choose" web page.